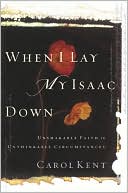 When I Lay My Isaac Down
by Carol Kent (NavPress Publishing Group, 2004)
Change the way you think about personal challenges. Sometimes we make sacrifices to help us get ahead, to allow us more time with family, or because we believe in the cause. And then there are sacrifices in which we have no say— "Isaac experiences" as in Genesis 22— thrust upon us without warning or survival instructions. This book outlines eight transformational power principles that Gene and Carol Kent learned in the process of facing the news that forever changed their lives: Their twenty-five-year-old son, a graduate of the U.S. Naval Academy with an impeccable military record, shot and killed his wife's ex-husband. Jason Paul Kent, long recognized for his exemplary character, now walks a path no one could have predicted—and his family lives in the aftermath of a devastation most cannot imagine. Carol's candid retelling of her emotional and spiritual agony will touch your heart. The principles the Kents learned in the process of surviving such unspeakable circumstances will bolster your faith, renew your hope, and challenge you to new levels of personal and spiritual commitment.
About the Author
Carol Kent is a popular writer, an international speaker, and president of Speak Up Speaker Services, a Christian speakers' bureau. Her many books include
Tame Your Fears, Becoming a Woman of Influence, Mothers Have Angel Wings,
and
Secret Longings of the Heart.
Hostage in Havana
From bestselling ABA author Noel Hynd comes this new series set against the backdrop of Havana, an explosive capital city of faded charm locked in the past and torn by political intrigue.U.S. Treasury Agent Alexandra LaDuca leaves her Manhattan home on an illegal mission to Cuba that could cost her everything. Accompanying her is the attractive but dangerous Paul Guarneri, a Cuban-born exile who lives in the gray areas of the law. Together, they plunge into subterfuge and danger. Without the support of the United States, Alex must navigate Cuban police, saboteurs, pro-Castro security forces, and an assassin who follows her from New York.Bullets fly as allies become traitors and enemies become unexpected friends. Alex, recovering from the tragic loss of her fiance a year before, reexamines faith and new love while taking readers on a fast-paced adventure. Readers of general market thrillers, such as John le Carre, David Baldacci, and Joel Rosenberg, will eagerly anticipate this first installment. 
I know it is hard to find something good to read so I just want to share them when I find them. Remember they will not stay free for long. So get them while you can.
If you do not have a nook and would still like to get most of these books and a free app to read them on check on
CBD.com