Tomorrow is the official day for registration to being for my 1st e-class. So I decided to have a giveaway. It will close at 11:59pm EDT Friday June 24. Here is how to enter.
Leave a comment here and let me know what you would like to win a spot in the class, and tell me if you have ever kept a visual journal and if not what you would like too know about keeping a visual journal.
Then grab the button code and link up on your blog and I will draw a name first thing in the morning.
Giveaway is now closed.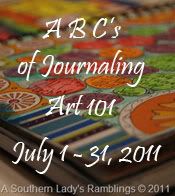 This is what I have been working on all week in my studio.